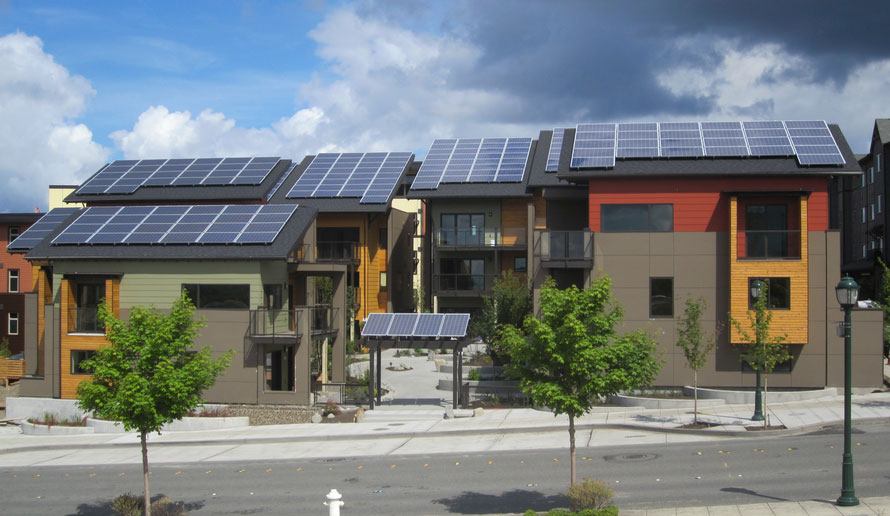 zHome, the nation's first zero-impact, affordable, multi-family community, located in the City of Issaquah, had its grand opening on September 14th.
An international public/private collaborative of the City of Issaquah, Howland Homes, Ichijo USA, Built Green, King County, Port Blakely Communities, Puget Sound Energy, and the WSU Energy Program teamed on the project which in addition to the community itself, will feature on- and off-site education including a sustainability center for long-term education about the project and deep green living and building.
The concept for zHome originated many years ago in the conference rooms at GordonDerr. Former GD land use planner Brad Liljequist, currently Project Manager for zHome, had a revolutionary vision—the idea that deep green building and living could be accessible to the mainstream housing market. Today, zHome proves that the construction of up-to-date; eco-friendly construction technologies are feasible and possible for typical housing projects.
zHome is now open Saturdays from 10-5 and Sundays 11-5 from September 17 until October 30th. Tours include expert guides explaining the future of building and how we can deal with climate change, ocean acidification, and deforestation. You can either walk through on your own or take a tour, which will leave every thirty minutes starting at the top and bottom of the hour.
zHome is located on High Street in Issaquah Highlands, just east of the intersection with Highlands Drive. Take exit 18 on I-90, head north on Highlands Drive, and look for the homes with the solar panels! Lots of free parking is available on adjacent side streets around the project.